Beaches in Pembrokeshire
---
It's official: here in Pembrokeshire you're in the second best coastal destination in the world. In 2010 the Pembrokeshire coast was awarded the accolade by National Geographic Traveler magazine experts it came second to Newfoundland's Avalon peninsula. Pembrokeshire has many different types of beaches from the long and sandy Freshwater West which is perfect for surfing to the hidden cove of Barafundle Bay. Due to Pembrokeshire's unique geology no two beaches are alike they range from flat dunes to stunning cliffs. Over 50 of Pembrokeshire's beaches and marinas have been awarded a Blue Flag meaning they are some of the cleanest and most unspoiled beaches in Britain. Below is a selection of our favourite beaches.
Freshwater West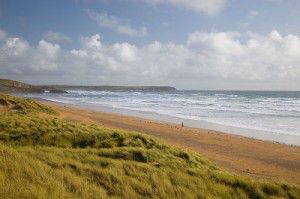 This is our local beach, just a short drive away. It offers ample free parking, toilet facilities, an emergency telephone and a mobile cafe which is open most days. It is 0.7 miles long and is surrounded by scenic sand dunes. It was recommended as beach of the week by The Telegraph newspaper. It is arguably the most consistent surfing beach in all of Wales and is truly an unspoiled gem of Pembrokeshire.
West Angle Bay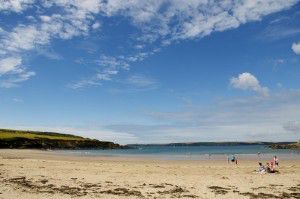 West Angle Bay is further along the coast from Freshwater West, but it is still only a short drive away from Pen-y-Holt Farm. West Angle Bay is a sheltered sandy beach perfect for swimming and ideal for family's with small children who want to go paddling and build sandcastles. There is a free National Park car park available near the beach, there are also toilet facilities and a cafe beside the beach which offers a selection of snacks and drinks.
Barafundle Bay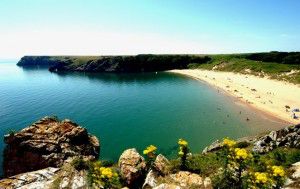 Barafundle Bay is a multi award winning beach, winning awards in many categories from being voted Britain's best picnic spot in 2006 to being voted Britain's best beach in 2004 and in the same year coming in the top 12 in the world's best beaches competition! Barafundle Bay is hidden away amongst stunning cliffs and there is a 15 minute walk along the coastline from the paid car park to get to it, but the effort is worth the reward.
Manobier Beach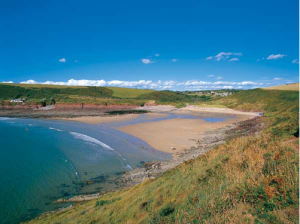 Manorbier Beach is small but beautiful sandy beach, a little bit off the beaten track. It is another great surfing beach and not too far from Pen-y-Holt Farm either. There is an imposing 12th century medieval castle which is very well preserved and can be seen from the beach. The castle has both tearooms and toilet facilities available. Just to the south end of the beach there is a coastal walk which leads to Stackpole Head. There is a paid car park available near the beach which can get busy during the summer.